Modern bathroom faucet is a class of common life hardware products which can not only decorate the entire bathroom faucet appearance, but also in the details reflect the quality of life of users, but in the process of using the bathroom faucet will inevitably appear faucet leakage phenomenon, if long-term in such a situation, not only a waste of water, but can not ensure clean and dry the entire bathroom space, the sanitary quality of life will decline, how to fix a leaky bathroom faucet?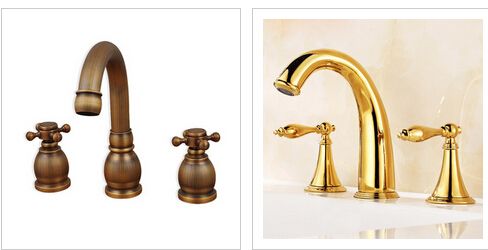 Antique Copper Three Hole Bathroom USD $145.99, save 69% off
First, the owners need to understand a leaky faucet is caused by water leakage, do not forget that after the pressure of water entering the home, so the faucet handle in the "off" position, must have watertight seals stop the inflow water. This seal is typically done by the washer tightly against the faucet seat formed. Obviously, if the seat faucet washers or wrong, there are some water may drip from the faucet leaking and mouth. To prevent such a drip, you usually only need to be replaced or repaired faucet washer seat.
If the gasket problems caused by leaking taps when repairing leaky faucet at first the first thing to do is to shut off water, simply turn off a faucet near the water supply valve can be shut off water, and then the washer can replace, when for a good washer and then be open water, and turn on the tap, detecting whether there leaking.
If you want to know more about us, please visit Faucet News!