Electric faucets as a new type water efficient product in the market has thermostatic water temperature during the using process and is very comfortable for using, so it become more and more popular for many people. But in the market, the electric faucets has different quality level which is not only according to the material and texture of faucet itself, but also according to the installation quality of the faucets. So we need to pay attention to some important factors when we install the electric faucets.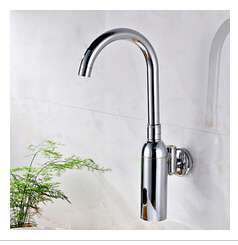 Automatic Touchless Faucet USD $77.99, save 69% off
Installation tips for electric faucets:
1.Do not use hot water too long for each single time.
2.Get ready to make antifreeze, it can not be used while frozen, you should be sure to turn off the power.
3.Do not have invert installation for using.
4.Please contact with the service department before purchasing for that non-water, bungalows and the top floor.
5.After installation, please make sure the water is completely discharged (hot zone), and then connect the power supply.
6.The handle is lifted up to open, it is down to close(for the first time: pass before water power)
7.Red toward is hot zone the blue toward is cold zone. In hot area, the lower water temperature will be the bigger amount of water is, while the higher water temperature is the smaller water will be.
Of course, if consumers can not make sure the installation quality of bathroom electric faucets, the best suggestion for you is to find a professional workers to help you. You should know the quality of installation for electric faucets is important for the performance of faucets and can use for a long time.