The so-called touch-less faucet is a class faucet which does not need to accept that people force but can automatically work, now sensor faucets on the market are mostly based on infrared sensors, when people are approached, its automatic water due to receive induction, when people leave , which automatically turns off the water, is very easy to use, are generally widely used in a number of hotels, restaurants and more places, to avoid people frequently open faucet and cause damage, sensor faucet and open the faucet using the traditional manual has a very distinct advantage, particularly primary reflected in the following aspects:
1.Smart Saving:
Automatic control for open and close the faucet, when you put your hands or something else into the automatic distance, the faucet will water automatically and cut off the water when your hands left, has good water efficient function.
2.Timeout Protection:
Has automatic cutting off water function after 30 seconds to avoid waste of water resources within the sensing range.
3.Convenient and Health:
Turn on and off the water all by the sensor without hands touching, effectively prevent bacterial cross-infection.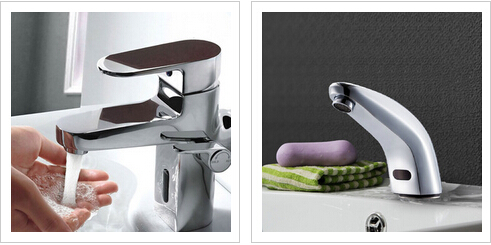 Modern Automatic Touchless USD $154.99, save 69% off
Modern Automatic Touchless USD $120.99, save 69% off
4.Smart Power:
This type faucet is using modern digital technology to ultra-low power (DC products use 4 AA alkaline batteries, the quiescent current ≤60μA).
5.Good Adaptability:
We can adjust to different environments based on sensor sensitivity, are mainly in the sensing range.
6. The Production Process:
Copper casting, chrome finish, eternal luster; and has streamlined design and modern feeling.
7. Easy Maintenance:
Built-in filter to prevent impurities affect the normal work flow into the solenoid valve, and is easy to clean.
8. Weak Prompt:
DC-type products with a battery replacement prompts, when battery power is low, the status indicator is lit, indicating the timely replacement of the battery.
9. Suitable Applications:
Suit for hotels, office buildings, airports, medical institutions and other public places.
If you are interseted in related products, please visit http://www.faucetsinhome.com/news/