Special Offers and Product Promotions



$197.99

+
+
+
+
+
Notice: suggest faucet water inlet is 35.4-47.2 inch high above the ground, avoid top shower too low and can not be used. (in general shower elevating pole is 33.5-47.2 inch high)
hose:Not included
suggested room fit:bathroom
spool material:Ceramic
faucet handle material:Brass
faucet body material:Brass
finish:Polished Brass
feature:Hand shower Included
style:luxury,antique,vintage,high end,best
number of handles:Single Handle
installation holes:Three Holes
installation type:Wall Mounted,Shower System
cold and hot water switch:Yes
Weight(kg):4.5
height:48.4 inch (123 cm)
(1)S-connecter
(2)Cup
(3)Washer
(4)nut

the height 'H' is according to your actual conditions
A.switching valve
B.top of faucet
C. seal ring C washer
The installation process refers to requirements of actual product installation.
1.wall support
2.Decorative cover
3.shower rod
4.Screw
5.seal ring
A.Part of shower rod
B.Part of shower rod
C.part of switching valve
A.nut
B.joint of switching valve
C.screw
D.shower hand
1.Washer
2.shower pedestal
3.shower head
Q: What' s the material of faucets?
A: The most common material: iron carbon alloy, PVC material, zinc alloy, ceramics, brass and so on.
Q: Could the basin not hold the water after pulling the sink faucet lever raised?
A: The seat did not seal the water basin, inject the seat bottom ring putty or silicone.
NOTE: we will resend you new replacement if the parcel damage or not receive ,But pls feedback the this information to lacal courier copmay which do delivery to you ,and do ask them to record and reply. it is the first important step to ask for claim online and then pls email us with pictures of broken packing. if local post office didn't do record ,we can't resend new replacement or refund
SF local number: 001 855 901 1133 (US)
UPS local number:18007827892(US)
DHL local number:1-800-225-5345 (US)/1-954-888 7000
Q: What's the matter of small amount of tap water or water bifurcation?
A: There are too many impurities in the water so it impact the bubbler work. Please unscrew the bubbler with vinegar soaked and cleaned, then replace the faucet.
Q: What's the matter of the basin faucet and kitchen faucet with small amount of water or non-foaming?
A: The water pressure is low, remove the faucet spout and change a bubbler.
Q: How to deal with the leaking pull the hose and faucet?
A: Improper installation or rubber ring deformation. Please replace the rubber ring and re-install.
Q: How to deal with leading caged?
A: Remove the valve, remove the foreign body, then installed after going to replace the valve such as a leaking valve
Touch-less faucet FAQ
1. Faucet can not water
Cause: ① sensing distance is shorter;② battery power is exhausted;③ sensor is dirty;④ without water; ⑤ filter dirty; ⑥ pipe clogging; ⑦ pressure range is not applicable Corresponding solution: ① wait 2 minutes before using the formula with a remote reset distance; ② new battery; ③ cleaning sensor window; ④ Clean the filter; ⑤ washing lines; ⑥ redesigned according to specifications table
2. Tap water stop
Cause: ① not apply pressure range; ② battery power is exhausted. Corresponding solution: ① redesigned according to specifications table; ② new battery.
3. leading a small amount of water after off the water
Cause: ① filter dirty; ② not apply pressure range. Corresponding solution: ① clean the filter; ② redesigned according to specifications.
4, leading out of water too small
Cause: dirty filters. Corresponding solution: clean the filter.
Q: How do you charge the shipping fee.
A:All products on faucetsinhome are free shipping to United States. Some products are complicated, so we need to adjust for customer. Generally speaking, the delivery time is 5-15 days. For more information, please feel free to contact our customer service: .
Q: What's your return policy?
A:We support exchange or return in 3 days (once you received the goods which depends on delivery and sing in date). If there are problems about the goods which are due to us, please contact us. If you did not contact our customer service but directly return the goods back to us, our company will refuse the parcel. Therefore, in case unnecessary problem happens, please contact our customer service first
Q: Do you support custom made wholesale?
A:Yes, of course. You can fill in your contact information and request on our wholesale page. We will contact you on time and send you the samples. And also you can give a call at our customer service. We will be happy to help you.
Q: Why do you need my email address?
A:After you placed the order on faucetsinhome.com, our customer service will send you an email including the detailed information about your order like shipping address, and your item information. So if there is any problem or mistake you can contact us and we will correct for you. Also, when we shipped your order, we will send you the email with tracking number, so you can check online. We will keep your privacy and will not sell or reveal your information to others.
Q: What's the payment method?
A:We accept Visa, Master Card, Paypal, Western Union and Bank Transfer.
Q: What is your quality assurance guarantee?
A:faucetsinhome Quality Assurance Program is a vital part of our corporate policy and store operations and is fully supported by senior management. Our organization is committed to an effective product safety program that ensures that our stores and products meet established standards for safety, quality and value. faucetsinhome offers quality products that meet or exceed product requirements established by applicable government agencies and our Quality Assurance department. Suppliers and products are evaluated for compliance with company standards and regulatory requirements through vendor audits and product inspections on an ongoing basis. The Quality Assurance department investigates customer concerns and initiates the appropriate follow-up and response action. If you have any questions, or to send us a comment, email us.
Q: What is your warranty policy?
A:faucetsinhome proudly stands behind the products we sell. faucetsinhome One-Year Warranty states that we will repair or, at our option, replace at no charge, your purchase within one year of the purchase date should you discover any defect in materials or workmanship. This warranty does not cover defects, including breakage or malfunctions, caused by your mishandling or use of the product in ways other than specified by the manufacturer.
Q: Why is your item's price lower than other suppliers'?
A:The reason is that we run our own factory. With all the middle dealers being left out of the business, it takes you less money to purchase the same item than it does on any other online sites. We are and always will be dedicated to providing latest fashion and newest design with high quality and low price.
What is mounting distance between 2 holes of faucets?
In general, for 2 holes or above, standard distance of 2 pipe center should be 150mm, and had better at the same horizontal line.
If the distance is above or under 150mm, pls purchase the faucet adapter to adjust
How about the tax ?
Usually there is no tax ,since we will wrote lowest price with package ,But if it is so serious customs in your country .and there is tax ,Pls pay and sign the parcel, in fact ,everyone has responsibility with tax ,Hope you can understand . if you refuse to sign the parcel since tax ,we will not pay anything.
by Venus
This faucet is not expensive and looks nice especially the color gold, the installation is also simple, the package is good as well.

by Evangeline
Like the color of this one, it is also cheap in this quality.

by Bianca
Like the ability to have a shower using this one.

by Cathie
I am very happy with this shower system,it replaced the decor shower system which was highly recommended but leaked at first time I used it. So I am concerned about the prossibility of this one leaking, I like it is not leaking.

by Anthea
The shower set is good for use and there is no problem with it.

by Virginia
It is beautiful in my bathroom and the shower is nice.Great water flow.

Showers on the market are all gorgeous, so that consumers have a dazzling feeling. How can we buy a really good shower? Let's take a look at the tips on shower selection.
1.Water amount from spray holes
When we purchase showers, we must check the the mount of water pull from spray holes. Amount of water of a qualified shower should be basically the same, and avoid the uneven spray holes as much as possible.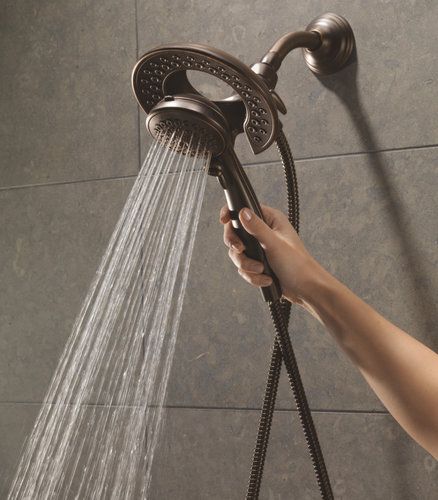 2.Surface coating
We need to check that whether the surface of the shower is smooth and glossy. The surface of shows need special treatment, including chrome, grinding, polishing, dust, nickel and other treatment processes because the wet environment in the bathroom and the purchase of beauty.
Qualified showers are strict with all the process. If you found that the surface of the showers uneven, peeling, cracking, peeling, exposed at the end or charred, etc., we should not buy them.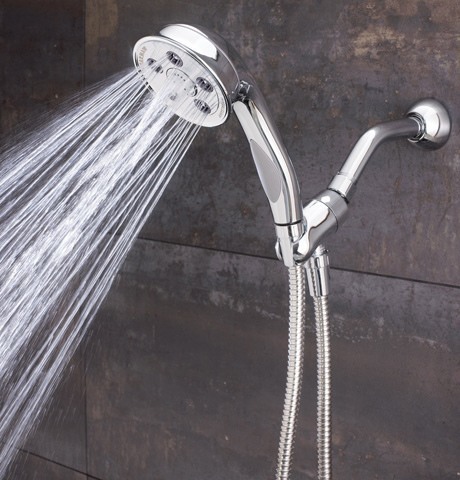 3.Material of shower body
We have reported a case that Taobao has a poor quality faucet with miscellaneous copper instead of brass, and declared the faucet was copper product. Actually similar phenomenons also happen in shower products. Some bad business use iron pipe as full copper tube to seek profits. So when we purchasing showers, we need to pay more attention to the material of shower body to prevent being fooled.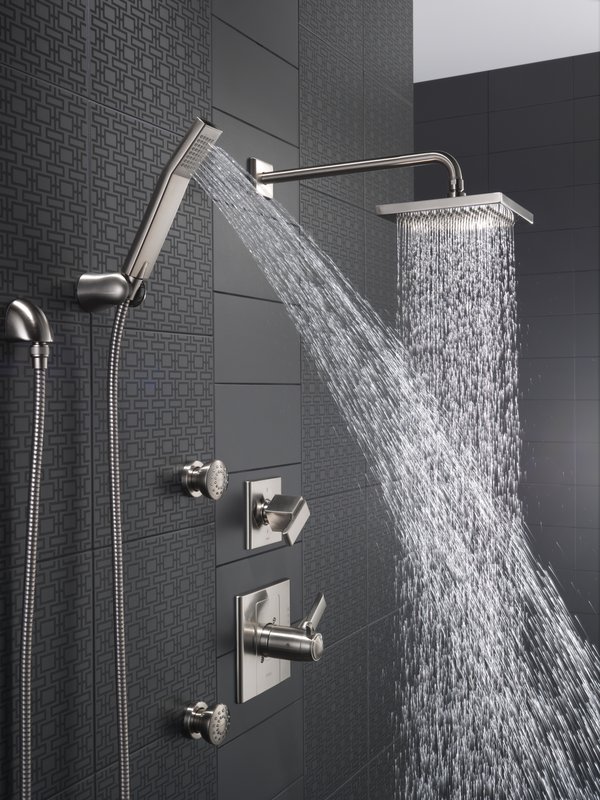 4.Water saving
Nowadays, people are all advocating energy saving and environmental protection, so saving water is also an important standard to a qualified shower. When you purchasing showers, we can choose shower with reasonable design as much as possible so that this shower not only can bring us comfortable experience but also can saving more water in our daily life.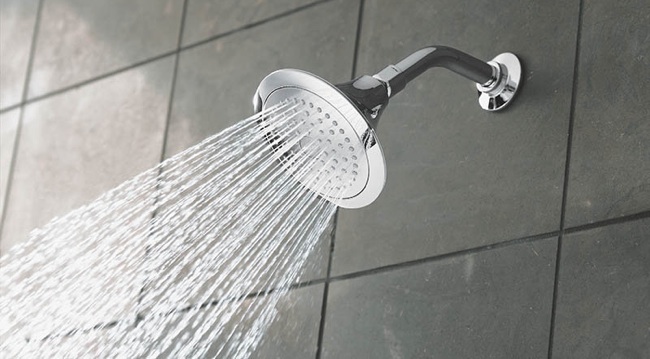 5.Spool of shower
Spools should be the heart of the showers which is the main factor in determining showers' quality and using life. There are three spools on the market: stainless steel ball spool, shaft roller spool and ceramic spool. We need to know that qualified showers usually use ceramic spools for its superior corrosion resistance which can use more long time. If you do not want to change the shower every few months, you are recommend to buy ceramic spool products.
Showers bring us a more economical and convenient life. If the shower does not has good quality, it will be easy to happen leakage, rust and other issues.
Antique Gold Exposed Brass Wall Mount Shower Faucet Save 39% off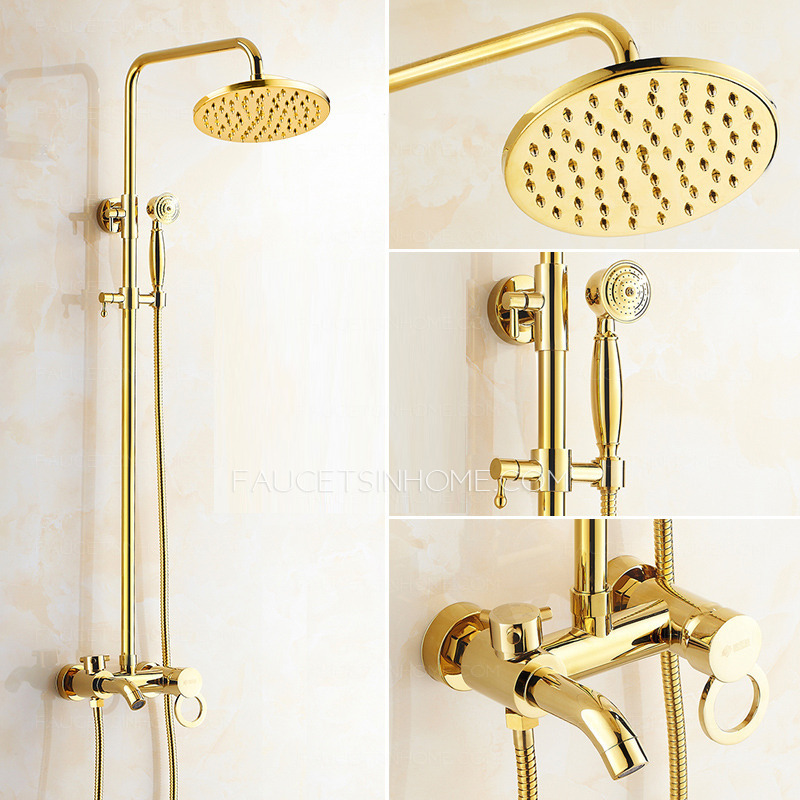 Antique shower faucet system is for three holes wall mounted installation, has single hollow handle for cold and hot water, a brass casting under effulent which is durable and secure, a hand held shower with 1.5m anti-winding shower chain, and a big top shower with multi types of water.
Learn More About This Product Features:
> Comes with all necessary accessories for installation.
> Featured with durable ceramic valves ensuring there are no water leaks.
> Available to work more than 600,000 times at a water temperature of 90 degrees.
> High quality material and finishing tested at a high water pressure of 1.6Mpa.
If your faucet is not G1/2'', please contact with our customer service, we will provide thread adapter of appropriate size for you.
Thread Specifications Table
Thread size

G1/8
G1/4
G3/8
G1/2
G3/4
G1
G1.1/4
Commonly known

1 point
2 point
3 point
4 point
6 point
1 inch
1 inch 2 points
Other names

DN4
DN8
DN10
DN15
DN20
DN25
DN30
Internal thread size(mm)

8.8±0.2
11.5±0.3
15.3±0.3
19.5±0.3
24±0.5
30.5±0.5
30.5±0.5
External thread size(mm)

9.5±0.2
12.5±0.3
16.2±0.3
20.3±0.3
25.7±0.5
32.3±0.5
41.3±0.5
Pictures Show

Q&A
Q:
what is the distance needed between the hot and cold lines? need to know for valve placement. thanks

by ****
A:
Dear customer,usually 15cm ,Hope this helps you.

by faucetsinhome
Q:
We ordered a faucet a couple of weeks ago. It fits our decor very well.

by Kali****
A:
Thank you so much for support ,It really lookws wonderful in your bathroom.

by faucetsinhome
Q:
I'm very happy with my order but I need to raise the height of the shower head. Is it possible to get an extra shower extender pole that will match?

by GARY O****
A:
http://www.faucetsinhome.com/118-inches-polished-brass-gold-extension-tubes-for-shower-faucet-system-p-2814.html It will helps you so much.

by faucetsinhome
Q:
what kind of roughing valve is needed for Item ID: FTSIH150414080948, It is the hardware/plumbing that goes in the wall to match the above product that you guys sell. My contractor says you should have the roughing valve for sale that goes with this product.

by Chrystal****
A:
Normally we will ship all Components as picture show online, do not send roughing valve, if you need, you can ask your contractor which kind of valve you need and show us picture so that we can check and find for you, or suggest you buy this valve in your local shop so that can fit your installation well.

by faucetsinhome
Ask a question
ABOUT faucetsinhome

PAYMENT/SHIPPING/POLICY

COMMON QUESTIONS

other business

connect with us